Hobart Catholic Parish
is under the Pastoral Care of the Passionist Congregation.
65 Harrington St Hobart
Phone: (03) 6234 4866
St. Joseph's Church is located on the corner of Macquarie & Harrington  Streets in central Hobart and is the centre of worship for Hobart Catholic Parish.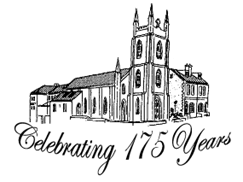 Christmas Day 2016 marked the 175th anniversary of the opening of St Joseph's.  St Joseph's Church is the oldest Catholic Church in Hobart.
175th Anniversary Memorabilia
To mark the occasion of the 175th Anniversary of the founding of St Joseph's, a specially minted medallion has been struck in an antique brass finish.
The medallion would make an excellent gift to mark the birth, baptism etc of a relative or friend by having their name and details of the occasion engraved on the reverse side.
The front side of the medallion depicts the exterior of the church as it appears today, while the reverse side features a section
of
the blackwood timber panelling that was designed and installed in the sanctuary in 1973 by Brother Walter Nicholls CP. The cost of a medallion in a hinged case is $25 plus $11.50 registered postage and handling of up to 4 medallions to the same address.
Order forms are available from the church entrance or may be down loaded by clicking here.
Limited copies of our 2016 souvenir calendar are still available for purchase after 9.30 am Sunday Mass, or from the Parish Office, at a reduced price.
Although the calendar is for the year 2016 it includes an overview of the history of St Joseph's and a series of high quality images of the interior of the church which were photographed in 2015 by Andrew Page.
All photos on this site are subject to copyright. Further information or requests for permission to use should be directed to the Parish Priest