Hobart Catholic Parish
is under the Pastoral Care of the Passionist Congregation.
St. Joseph's Church, 65 Harrington St.,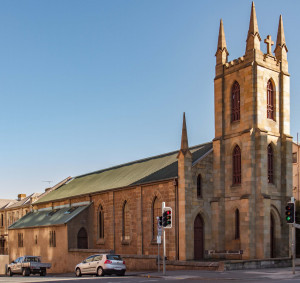 (corner Macquarie & Harrington  Streets) is the centre of worship.  Ph: (03) 6234 4866
St Joseph's Church
was built in 1841, opened and blessed by Father Therry early  on Christmas morning 1841. It is the oldest Catholic Church in Hobart.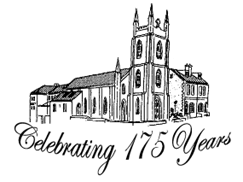 Christmas Day 2016 marks the 175th anniversary of the opening of St Joseph's and the parish has organised several functions to celebrate the anniversary. Click HERE to read "St Joseph's 175 Years" published in the Catholic Standard of 5th June, 2016.
175th Anniversary Celebrations
SEPTEMBER 27th Tuesday, 7:00 pm:  St. Vincent de Paul Mass acknowledging the work of the Society within the Hobart Region
OCTOBER 9th Sunday: Fair Day, 10.30 am until 12:30 pm
OCTOBER 19th Wednesday: Charismatic Healing Mass, 7.30 pm
OCTOBER 22nd Saturday:  St Paul of the Cross Mass for Parishioners and Religious, 12.00 pm;  Luncheon for Religious and Clergy, 1.00 pm
NOVEMBER 26th Saturday: A Mass Celebrating 175 Years of Service to Hospital and Health Care Ministries in Hobart, 2.00 pm
DECEMBER 19th Monday: Communal Celebration of Reconciliation, 7.30 pm
DECEMBER 24th Saturday: Christmas Eve Children's Mass, 6.30 pm; Vigil Mass, 8.30 pm; Midnight Mass
DECEMBER 25th Sunday: Christmas Day Masses: 7.30 am; 9:30 am; 11:00 am
Click HERE to print program
175th Anniversary Memorabilia
Commemorative Medallion
To mark the occasion of the 175th Anniversary of the founding of St Joseph's, a specially minted medallion is being struck in an antique brass finish.
The front side of the medallion will depict the exterior of the church as it appears today, while the reverse side will feature a section
of
the blackwood timber panelling that was designed and installed in the sanctuary in 1973 by Brother Walter Nicholls CP. The cost of a medallion in a hinged case is $25 plus $7.50 post and handling.
Order forms are available from the church entrance or may be down loaded by clicking here.
A souvenir Calendar, containing contemporary photographs of St Joseph's may be purchased after Mass. Cost $10.
All photos on this site are subject to copyright. Further information or requests for permission to use should be directed to the Parish Priest