Hobart Catholic Parish
is under the Pastoral Care of the Passionist Congregation.
Church: Corner Macquarie & Harrington Streets
Monastery: 65 Harrington Street, Hobart
Phone: (03) 6234 4866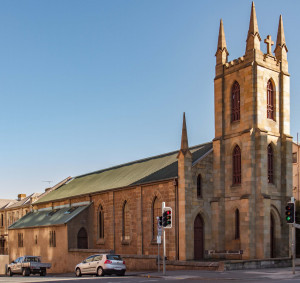 St. Joseph's Church is located on the corner of Macquarie & Harrington  Streets in central Hobart. It is the centre of worship for Hobart Catholic Parish.
St Joseph's is the oldest Catholic Church in Hobart. The first Mass was celebrated on Christmas Day 1841.

Mass Times
WEEKEND
Saturday morning: 8.00 am
Saturday evening: 6.30 pm (Evening Vigil Mass)
Sunday: 7.30 am, 9.30 am, 11.00 am
WEEKDAYS
Monday – Friday: 8.00 am, 12.10 pm
Exposition of the Blessed Sacrament normally follows the 8.00 am weekday Mass until midday when Benediction precedes the 12.10 pm Mass.
There is no Exposition or Benediction on public holidays.
Mass times are subject to change, especially during holiday periods.
Visit the Archdiocese of Hobart web site for Mass times at other Tasmanian parishes.
Reconciliation – Sacrament of Penance
Monday – Thursday: 12.30 – 1.00 pm
Friday: 12.30 – 1.00 pm; 5.00 – 5.30 pm
Saturday: 4.00 – 4.30 pm;  6.00 – 6.30 pm
JOSEPH'S RESTORATION RAFFLE & FAIR
SUNDAY 14TH OCTOBER : 10.30am – 12.30pm
Keep this date free in your diary. Over the coming weeks more information will be given through the newsletter.  It's not too early to put aside some homemade jam, chutney etc. for the produce stall.
---
All photos on this site are subject to copyright. Further information or requests for permission to use should be directed to the Parish Priest